Song Information
Edit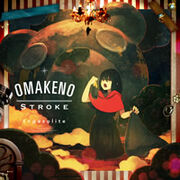 Artist: t+pazolite
Composition/Arrangement: t+pazolite
BPM: 120-240
Genre: Original
Default Skin: BASIC
First Appearance: Groove Coaster EX
Other Appearances: None.
Various soundbytes.
Song Connections / Remixes
Edit
None.
OMAKENO Stroke requires 16 music panels to unlock in Groove Coaster EX.
OMAKENO Stroke can be found on Groove Coaster Extended Play3 & on the first disc of the later Groove Coaster Original Soundtrack.
In Groove Coaster 2 Heavenly Festival, the following titles can be obtained relating to OMAKENO Stroke:

I ♥ OMAKENO Stroke - Play 100 times
OMAKENO Sensei - S Rank or higher on all difficulties
OMAKENO Daiou - S++ Rank or higher on all difficulties
OMAKENO Kamisama - 1,000,000 score on all difficulties
Difficulty & Notecounts
Edit
Ratings and notecounts obtained from wikihouse.
Game
Difficulty
Target
Ad-Lib
Full Chain
Max Score
Groove Coaster EX - Present
SIMPLE
5
1,382
1,000,000
NORMAL
8
1,777
1,000,000
HARD
10
2,300
1,000,000
EXTRA
-
-
-
-
-
Community content is available under
CC-BY-SA
unless otherwise noted.