Song Information
Edit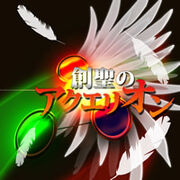 Artist: ♪♪♪♪♪
Composition/Lyrics: Yoko Kanno
Arrangement: ?
Vocals: ?
Original Artist: AKINO
BPM: 151
Genre: Anime
Default Skin: FEATHER
First Appearance: Music GunGun!
Other Appearances: Groove Coaster (AC)
世界の始まりの日 生命の樹の下で 
くじらたちの声の遠い残響 二人で聞いた

失くしたものすべて 愛したものすべて 
この手に抱きしめて 現在(いま)は何処を彷徨い行くの

答えの潜む琥珀の太陽 出会わなければ 殺戮の天使でいられた 
不死なる瞬き持つ魂 傷つかないで 僕の羽根 
この気持ち知るため生まれてきた



一万年と二千年前から愛してる 
八千年過ぎた頃からもっと恋しくなった 
一億と二千年あとも愛してる 
君を知ったその日から僕の地獄に音楽は絶えない

sekai no hajimari no hi inochi no ki no shita de 
kujiratachi no koe no tooi zankyou futari de kiita

nakushita mono subete   aishita mono subete 
kono te ni dakishimete   ima wa doko wo samayoi iku no

kotae no hisomu kohaku no taiyou   deawanakereba   satsuriku no tenshi de irareta 
fushi naru matataki motsu tamashii   kizutsukanaide   boku no hane 
kono kimochi shiru tame umarete kita



ichiman'nen to nisen'nen mae kara aishiteru 
hassen'nen sugita koro kara motto koishiku natta 
ichioku to nisen'nen ato mo aishiteru 
kimi wo shitta sono hi kara boku no chigoku ni ongaku wa taenai

On the day the earth began, under the tree of life. 
We listened together to the sound of distant whale song.

Everything we lost, and everything we loved. 
I embrace with these arms, but where do I wander now?

The amber star above holds its secrets. 
This undying, brilliant spirit, without you but a vengeful angel. 
Please, do not ravage these wings, I was born to know these feelings.



It's been ten and two thousand years since I first loved you. 
Eight thousand years later, I yearned you even more. 
In one hundred million and two thousand more, I will still love you. 
On that day, through my torment I began to hear the music.

Song Connections / Remixes
Edit
創聖のアクエリオン is the opening theme to the anime Genesis of Aquarion.
創聖のアクエリオン is available as a default song in Music GunGun!

創聖のアクエリオン is available as a default song in Groove Coaster (AC).

All versions of Groove Coaster and Music GunGun! use a cover version of 創聖のアクエリオン.
In Groove Coaster 2 Heavenly Festival, the following titles can be obtained relating to 創聖のアクエリオン:

- Play 100 times
創聖のマスター - S Rank or higher on all difficulties
創聖のキング - S++ Rank or higher on all difficulties
創聖のゴッド - 1,000,000 score on all difficulties
Difficulty & Notecounts
Edit
Ratings and notecounts obtained from atwiki.
Game
Difficulty
1P
Notes
Max Score
2P
Notes [1P-2P]
Max Score [1P-2P]
Music GunGun! - Zoukaban
かんたん
-
-
-
-
-
-
ふつう
4
3
むずかしい
5
-
-
-
超むずかしい
-
-
-
9
Music GunGun! 2
EASY
-
-
-
-
-
-
NORMAL
5
54
23,490
6
HARD
11
84
34,425
15
VERY HARD
-
-
-
-
-
-
Ratings and notecounts obtained from wikihouse.
Game
Difficulty
Target
Ad-Lib
Full Chain
Max Score
Groove Coaster (AC) - Present
SIMPLE
2
737
1,000,000
NORMAL
4
867
1,000,000
HARD
5
1,033
1,000,000
EXTRA
-
-
-
-
-
Community content is available under
CC-BY-SA
unless otherwise noted.